While meet-ups and events with local lacemakers have all been cancelled, the last 20 months have been extremely rich in online events, that I was able to attend from my own bedroom, sometimes with some crochet or knitting work at hand.
I took a contemporary lace design workshop titled Needle Lace Narratives with Maggie Hensel-Brown at DFZ 2021 and I have been completely fascinated by her art since. Here's an article about her work and she's giving a talk soon as part of the CDMC series of talks on textiles soon.
I have been attending a Clones Lace class offered by the Lace Museum lately, and our teacher Maire Treanor and the Lace Museum organised a special talk on Orvieto lace last night. Orvieto is a small city in Umbria, and Orvieto lace has a very interesting history, being heavily influenced by Irish crochet lace.
Instrumental in the revival and preservation of Orvieto lace was the great Maria Vittoria Ovidi Pazzaglia, who taught Orvieto lace and published several books on lace. This is an interview with her that I managed to trace down and read via Google Translate.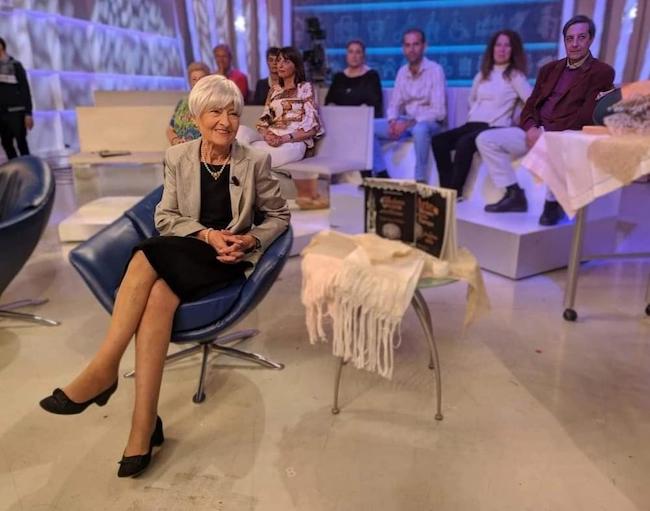 Unfortunately, Maria Vittoria passed away last year, so we had her daughter Natalia Pazzaglia, and a former student, Alessandra talking to us, a group of Clones lacemakers and our teacher. Maria Vittoria and Alessandra had visited Clones a couple of years back.
The time spent with the two ladies was a delight. The meeting had no set agenda, so we were free to ask questions and satisfy our curiosity. Alessandra did not speak English, so Natalia played the role of interpreter, and also spoke with great emotion about her mother and her work.
Orvieto lace has very distinctive 3D characteristics, and to find out how that effect is obtained was a real surprise. The lacemakers use a "chiave a brugola" (which we identified as an Allen key with the help of Google Translate) that they heat in fire, to press their lace from behind and create the 3D effect. In the old time, they used oversized gate keys. The conversation also revolved around materials (helping me to discover the source of Presencia thread), themes and shapes. We were showed beautiful earrings and other ornaments made in Orvieto lace.
A lace school is functioning nowadays in the nearby city of Bolsena, and is organising an exhibition every second year.
This is a video introducing Ars Wietana or Orvieto lace (in English).
It also helped a lot when Natalia mentioned other types of lace made in Italy, such as sfilato siciliano, punto taglio merletto and pizzo macrame (not sure of my spelling!).
Recently, an Italian friend who visited Isola Maggiore also told me about the local lace inspired by the Irish crochet lace tradition.
October 14 2021 01:04 pm | Limerick
Leave a Reply